Find HTML Color Values
Using this program you can create hexadecimal color codes as regular HTML tags or CSS (Cascading Style Sheets).

Download This Free Software
Bookmark:
Find HTML Color Values
HTML colors are defined using a hexadecimal notation for the combination of Red, Green, and Blue color values (RGB). The lowest value that can be given to one of the light sources is 0 (hex #00). The highest value is 255 (hex #FF). The combination of Red, Green and Blue values from 0 to 255 gives a total of more than 16 million different colors to play with (256 x 256 x 256).
This tool let you generate HTML color code for any given color. You can see both Hexadecimal and Decimal code for given color.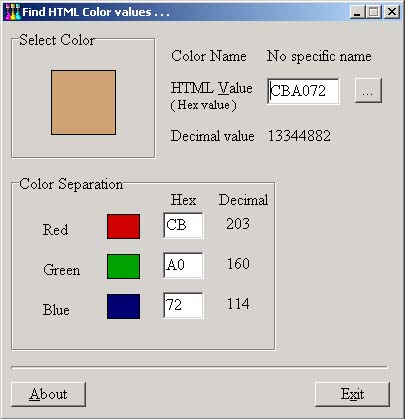 Software version and platform information
Version: 1.0
Build Year: 2002
Platform: Windows (Win32)
Software Written In: Borland Delphi
Screenshots for - HTML Color
Download This Webmaster Tools Free Software.
Download materials for this article (Webmaster Tools - Free Software)

HTMLColor.zip
File size: 379 KB, File type: zip
Total downloads: 75, Upload date: February 06 - 2009


Leave a comment