Portable Encryption Utility
Portable encryption utility allows you to securely carry your passwords in pen-drive, store in desktop computer or transfer over the internet. Don't let someone steal your confidential details; protect your information using this nice tool PortableEncryption.

Download This Free Software
Bookmark:
Portable Encryption Utility
PortableEncryption is a small and extremely fast encryption tool. It is easy to use and light weight software. In addition, it is portable, you can put it on your USB memory stick and run it anywhere you go! Very useful for users who want to keep their passwords secure on their computer or transfer over Internet using unsecure channel.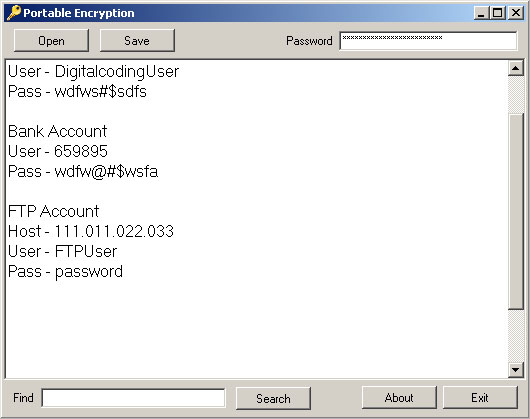 Password based encryption is not the most secure way to protect information. In order to get 128bit of key information out of a password it has to be long. If you are using just small letters that gives you about 5 bits of information per character and your password will have to be over 25 characters long to get to 128bit. If you are using capital letters and some symbols you can get to about 7 bits per character and your password minimum length to around 18 characters
How To Use the PortableEncryption Tool
Download PortableEncryption.zip, and then unzip the files to your hard disk.
Double-click the PortableEncryption.exe file to start Portable Encryption software.
Type the data (or paste) that you like to encrypt in text box.
Enter your password in password box.
Hit save button to save your encrypted data to a disk.
To open the saved encrypted file, first enter the password and click Open button and select the saved encrypted data file.
Software version and platform information
Build Year: 2009
Development Status : Beta
Operating System : 32-bit MS Windows .Net 2.0
IDE: Microsoft Visual Studio 2008
Intended Audience : Advanced End Users, End Users/Desktop, System Administrators
Programming Language : C#
User Interface : GUI (Graphical User Interface)
Version: 1.0
Download This Cryptography and Security Free Software.
Download materials for this article (Cryptography and Security - Free Software)

PortableEncryption.zip
File size: 15 KB, File type: zip
Total downloads: 134, Upload date: April 21 - 2009


Exsa :: May 10-2009 :: 04:30 AM
thanks to publish this software.
Leave a comment